Hi everyone!
I'm back with another card using some of the items that will be available for purchase starting June 1st with the release of our brand new catalog! Do you all have your wish lists ready?
Today I made a very simple card. The reason why is that I wanted to show how beautifully the new stamp pad design inks up solid image stamps. We have all had the problem of getting a large, solid image to be evenly coated with ink. While it could be done with the old felt design of the stamp pads, it wasn't always the fastest process. These new stamp pads ink up the stamps perfectly! You no long have to tap the stamp on the pad many times to get even ink coverage. These new pads are just awesome!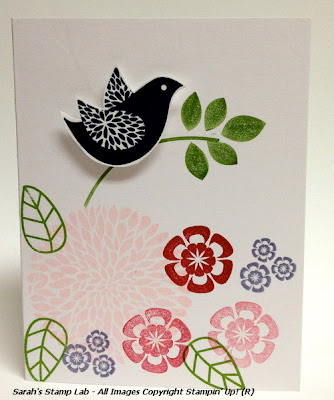 Here's a close up of the bird. Look at how great that ink coverage is!!!!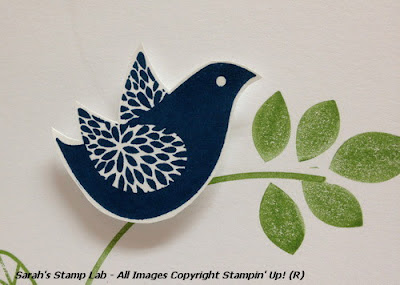 Stampin' Supplies:
Paper: Whisper White card stock
Ink: Midnight Muse*, Gumball Green*, Raspberry Ripple*, Wisteria Wonder, Pink Pirouette
Stamps: Betsy's Blossoms
Others: paper snips, dimensionals
* New 2012-2014 In Color
Coming soon! New classes! I'm busy brainstorming new classes for the second half of 2012. Watch your emails for more information coming over the next few weeks. Not on my mailing list? Click on my store listing:
Sarah's Stamp Lab
and click on "Request My Newsletter" to be added to my mailing list.