I am a little behind on my My Paper Pumpkin posts. Sorry about that, I have really been trying my best to play catch up on all Stampin' Up related items. This week I'm going to give you a double dose of My Paper Pumpkin! The May PP kit was aimed at easy scrapbooking. You were given all of the supplies needed to create an adorable brag book. As you probably can tell from my blog, I am not a scrapbooker. I get overwhelmed with the choices and forget about creating a 12x12 layout - ack! That's why I love cardmaking so much...it's a much smaller canvas!
The Paper Pumpkin kit made creating this brag book a snap! I wanted to share all of the layouts with you, so I'm going to split this project into two posts.
First up - the cover. I decided that a brag book is definitely something you love showing off to people. Therefore, I took photos from something I really loved for it....my Hawaiian honeymoon! Hawaii is my favorite place on Earth!
See that cook film strip border? That was a sticker included with the kit. In fact, all of the elements on the page are stickers from the kit! See? I told ya it was easy.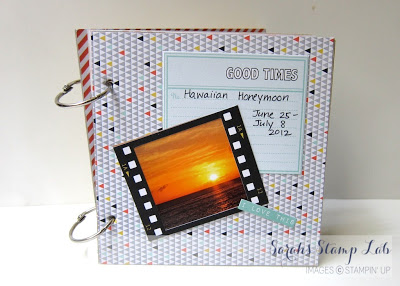 The first 2 page layout. I added in some Basic Black cardstock to mat the turtle photo. I also used my Basic Black Stampin' Write marker for journaling.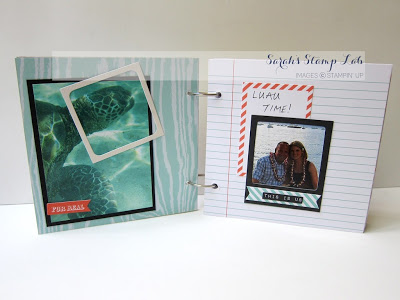 The second two page layout - I became a little more adventurous with the elements on my pages. Adding in the little strip of patterned paper to the pages was a great way to use up some of the scraps.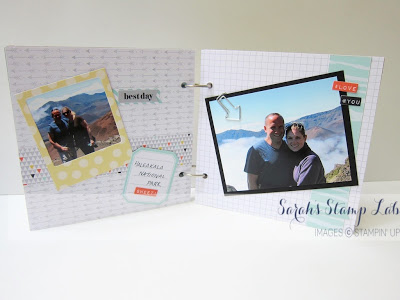 The third 2 page layout. I used the ABC-123 Outline Alphabet and Numbers stamp set to spell out "KONA" in the lower left corner. The other stamp "The Good Life" came with the Paper Pumpkin. That stamp is great for scrapbookers or those of you who create Project Life books.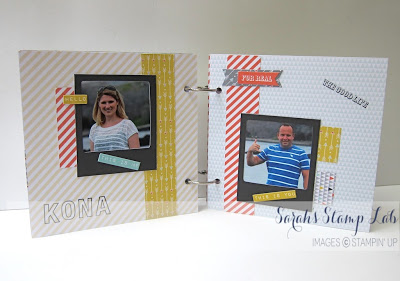 Look at me....a self proclaimed non-scrapbooker who is scrapbooking! My Paper Pumpkin made it so easy! Everything was coordinated and ready for me to use.
Do you want to get a monthly papercrafting surprise in your mailbox? Then join My Paper Pumpkin! If you sign up with me as your demonstrator before August 31st, you can get your first two months for only $10 per month (shipping included)!
Enter in the code: PUMPKINDEAL
After the first two months, the subscription price goes up to $19.95 per month (shipping included). Email me if you have any questions about My Paper Pumpkin, or any Stampin' Up! products!