Hi Stampers!
It's the day before Thanksgiving and all of New Jersey is a stormy mess! This storm is just a drop in the bucket compared to those fickle ladies who have stormed the state over the last few years. I can guarantee you that the weather is not going to stop all of us from getting ready for Turkey Day! I know that I have an evening of cupcake baking ahead of me when I get home from work. :-)
I wish that I had had the time to make a special Thanksgiving project for today's post, but due to the move I am just finally settling in to my craft room and have really been focusing on those projects for the next big holiday.
So instead of turkey, I bring you fish! :-)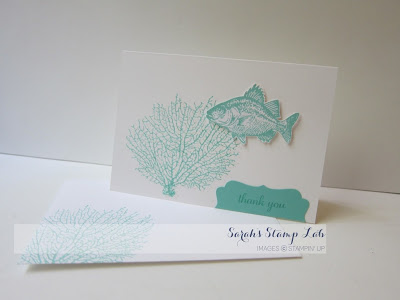 This was the card sample that I had included with my Coastal Cabana In Color Club packet. Every year, beginning in June, I run an In Color Club. Each month, for 5 months, those who join In Color Club get a packet of ink, cardstock, and embellishments all in one of the new In Colors. It's an affordable way to build your stamping stash and collect all of the new colors released every June. Each packet also includes a card sample showcasing that month's color.
I used the By The Tide stamp set for this sample. You can't really see it in the picture, but for the coral, I first stamped it in Coastal Cabana. Then, using my Stampamajig, I stamped over the coral again in Versamark ink and heat embossed with the Iridescent Ice embossing powder. I love the Iridescent Ice embossing powder because it adds sparkle without the mess of glitter.
Stampin' Supplies:
Card Stock: Whisper White, Coastal Cabana
Stamps: By The Tide, Express Yourself (hostess)
Ink: Coastal Cabana, Versamark
Punches: Decorative Label
Other: Iridescent Ice Embossing Powder, Stampamajig, Heat Tool, Embossing Buddy, Dimensionals
BLOG CANDY
Don't forget to enter for the chance to win some blog candy by clicking
HERE
I hope everyone has a wonderful Thanksgiving!!!!