Hi Stampers!
I have some really exciting news to share with you today! Oh my gosh, it's just too much....here we go!

Get ready for a scrapbooking revolution with Project Life! It helps busy people (so basically all of us) document life using photos and journaling in a quick, simple, and fabulous way. Stampin' Up! has partnered with Becky Higgins, creator of Project Life, to offer a complete line of elite products.
Becky explains,
"It's called Project LIFE because it's about YOUR LIFE. Whatever your life is. Whatever your stage of life. Whatever your family circumstances. Whatever your lifestyle. Project Life is designed to help anyone and everyone get their pictures into a book."
In a nutshell, it's all about
spending more time making memories and less time scrapbooking them.
be interested in buying exclusive-to-Stampin' Up! Project Life products from you!
Why Project Life enthusiasts (and soon-to-be Stampin' Up! enthusiasts) will love these products:
Coordination, coordination, coordination. You know we do it best, and our Project Life line is no exception.
Our products center on things that matter most-weddings, babies, kids, and the everyday moments of getting together with your favorite people-all things that need to be remembered.
Our card collections come without rounded corners so you can decide if you want to keep them that way (and match the corners of your photos as they come) or use our Project Life Corner Punch to round them out.
Our card collections come packaged in an exclusive storage system that holds all your Project Life supplies on your desk: cards, journaling pens, photos, accessory packs, stamp sets, and more.
Check out this video to learn more!

You'll be able to order a selection of Project Life products starting May 1! And with the launch of our new annual catalog on June 2, you'll be able to buy from our complete line of Project Life products.
Can't wait that long?
Stampin' Up! demonstrators will be able to order the limited selection starting April 21.
So if you're a demonstrator make sure to check the demonstrator website that day; if you're not a demonstrator, sign up and you can order the products early too!
Here are the items you'll be able to purchase on May 1: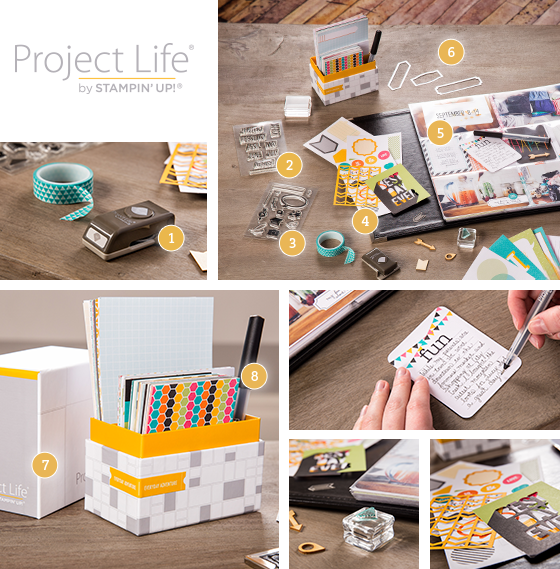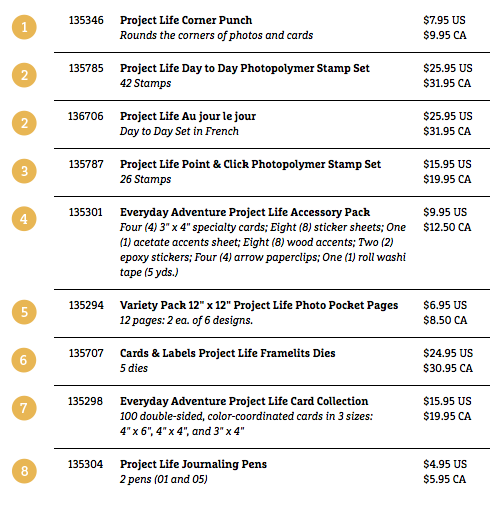 Are you interested in getting the new Annual Catalog for FREE? Do you want to see the entire line of Stampin' Up! Project Life products? Then request a catalog from me! All you have to do is send me an
email
! 2014-2015 Annual catalogs will begin mailing out in May.
Don't forget! The Annual Retirement List will be announced on April 21st! All retiring items are available while supplies last. Double check those wishlists because you do not want to miss out!