Hi Stampers!
Today I have a special Easter Sunday post for you! I wanted to share with you the gifts I made to give my family for Easter. Normally we buy each other candy, but I thought a nice home baked treat would be even better. (I'm still giving them candy, too!) I love this banana bread recipe from the Cookies and Cups blog. I love it so much that I have been collecting bananas in my freezer for weeks to have enough to make 6 batches of batter. (Hint - if you want to find the mini PB cups at the best price get a giant box of them from Costco.) Of course, I also have to dress the loaves up with some stamping!
I made this adorable little tag with just a few supplies, including the Everybunny stamp set. It was quick and easy! I used my blender pens and ink pads to water color the image. Remember when you are watercoloring an image, be sure to use StazOn ink to stamp the image outlines. I added a sentiment to the bottom and cut it out with the oval framelits. Then I matted the image with the next size up oval which I cut out of Primrose Petals Core'dinations card stock and embossed with the Fancy Fans embossing folder.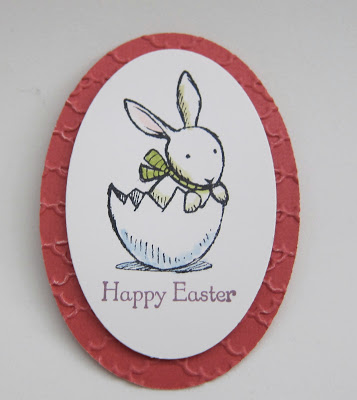 Here are the breads all wrapped up and ready to go!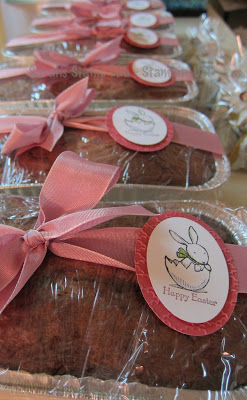 I used the 1-1/4" Two-Tone Ribbon in Pink Pirouette/Rose Red to wrap around the loaf and tied it in a bow.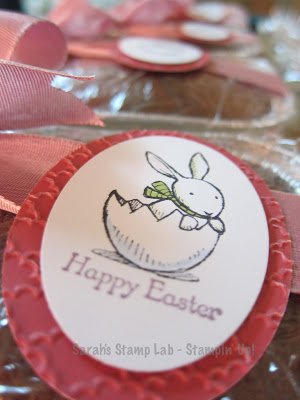 Then I also made some quick little treat bags. Each bag was tied with Old Olive 3/8" Striped Organdy Ribbon. Then, I took the small size bottle cap a and ran it through the Big Shot. I used the 1/2" circle punch to punch out discs of Summer Smooches DSP. I glued the DSP in the bottle cap and filled in the cap with Crystal Effects. After adding the Crystal effects, I sprinkled on some Dazzling Diamonds for extra sparkle. When the cap was dry, I applied it to the ribbon with a dimensional.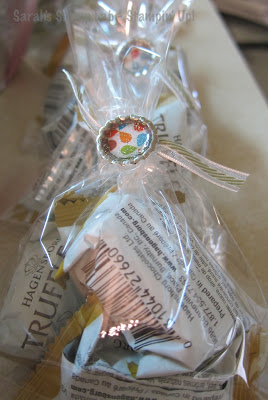 I hope you have enjoyed seeing my Easter treats. Have a wonderful Easter!!!!