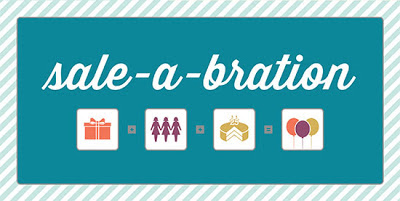 Sale-A-Bration is Stampin' Up!'s premiere promotional event. It's an annual party with loads of free products!!! Since it's Stampin' Up!'s 25th anniversary, this year's party is better than ever! So put on your party hat and BYOC (bring your own confetti). :-)


Sale-A-Bration + Stampin' Up!'s 25th anniversary = the best time to host a Stampin' Up! party!
Get FREE Silver Glimmer Paper when you host a $150 workshop!*
Get a FREE hostess bundle when you host a $400 workshop!*

Plus you earn your Stampin' Up! Hostess Rewards!
Hostess Bundle Details:
Madison Avenue stamp set (wood- or clear-mount)
Sycamore Street Designer Series Paper
Sycamore Street Ribbon & Button Pack
Hostess bundle catalog numbers:
Wood-Mount Hostess Bundle: 133316
Clear-Mount Hostess Bundle: 133317
Free Glimmer Paper: 133318
Please note: these item numbers only apply to orders that you place directly through my online store.
*Offers are not incremental (i.e., a hostess does not receive two packages of Glimmer Paper for a $300 workshop or two bundles for an $800 workshop).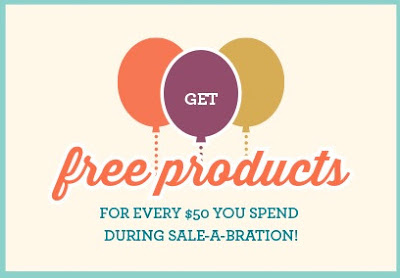 Love to shop? How about shopping and getting rewarded?
Welcome to Sale-A-Bration!
Customers may choose any one product from the Sale-A-Bration brochure for every $50* they spend. This year's offering includes exclusive stamp sets and accessories, as well as a selection of catalog stamp sets, digital content CDs, ribbon, buttons, and even an embossing folder! Now, more than ever, there's something for everyone!
*Excluding tax and shipping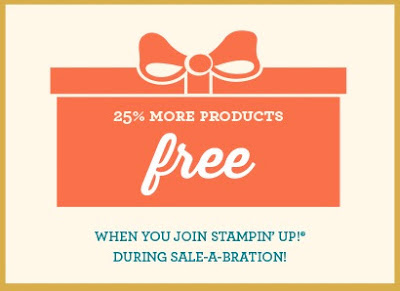 Become a Stampologist! (a.k.a. - part of my team! Yay!)
Sale-A-Bration + Stampin' Up!'s 25th anniversary = 25% more Starter Kit products for FREE!
THE LOW-DOWN ON JOINING STAMPIN' UP!
We're just right for you if you dig:
• Making your own schedule
• Adapting your workload to fit your family's needs
• Forging new relationships with amazing women
• Having a go-to creative outlet that you can share with others
• Getting discounts on wonderful products
• Making extra money

Plus, during Sale-A-Bration, when you join Stampin' Up! you'll get 25% more products for FREE in your Starter Kit—that's 25% more for 25 years of making a difference in our demonstrators' lives!

For more details, get the nitty-gritty on compensation here.
WE KEEP IT SIMPLE
We know you're busy, so we made the signup process easy. Starter kits are a doable $99, and you can completely customize them to suit your individual needs and taste. You get to choose what products you want to start with and what type of business supplies you want. Then we'll ship the kit right to your door.

Contact me if you have more questions, or if you are ready to become a Stampologist with the Stamp Lab!