Do you even find a stamping supply laying on your desk and it suddenly inspires you to create a card? That's what happened to me with the projects in this post.
I have been trying to reorganize my craft room. I have lots of retired stamping supplies laying around. Instead of just saying, "Oh this is old. Let me just shove this away in a corner", I have decided to pair the old with the new.
The old supply I am using is the beautiful Something Borrowed embellishments. These lovely silver tone and rhinestone embellishments have been sitting on my desk forever. They were definitely a case of a product being too pretty to use. I know that sounds ridiculous, but it's true! I could not bring myself to use them because I thought that they were just too pretty. Well now, I need to get them used up.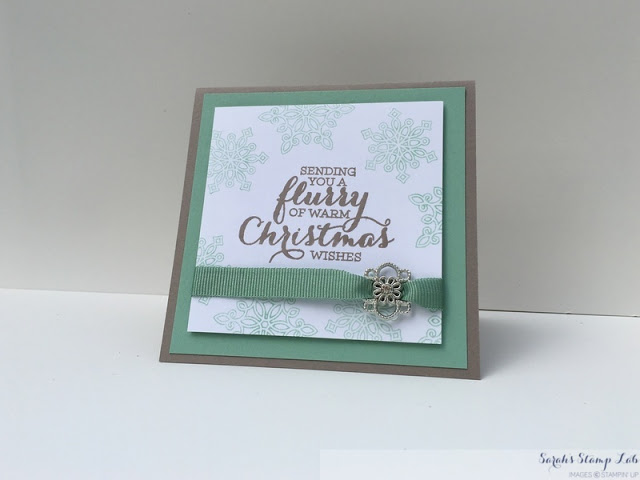 These embellishments were originally geared towards wedding projects, but I think that they are fabulous when paired with snowflakes!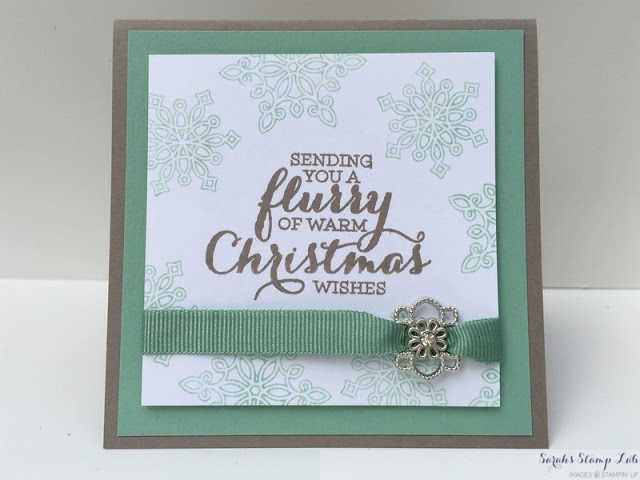 Flurry of Wishes is my favorite snowflake stamp set! (And with a coordinating punch, it is super easy to make great projects.) To me, snowflakes sparkle just like these embellishments.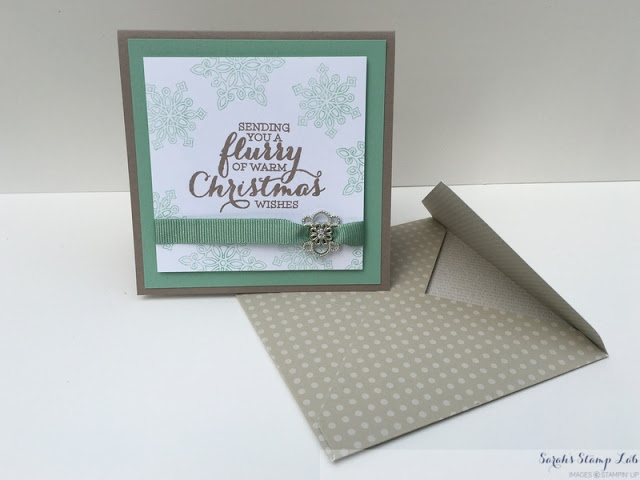 For some more stash busting, I made a matching envelope from some retired paper. That's a great way to use up some DSP if you have a bit piled up and you want to make room for the latest and greatest paper. Just use it to create beautiful envelopes.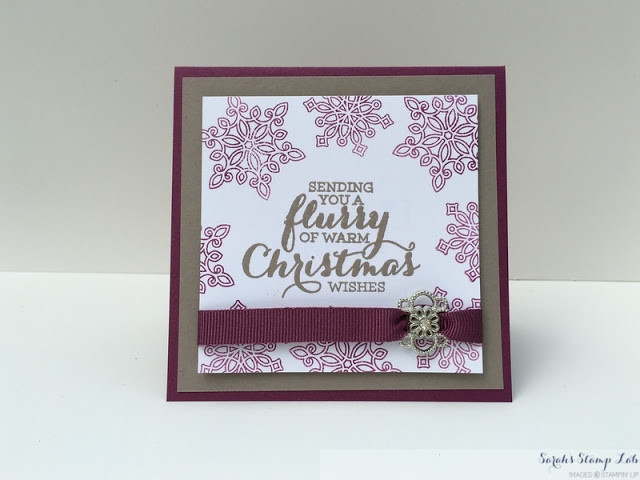 I couldn't resist making another card with a different color scheme. Can you tell that I love non-traditional colors for Christmas cards??? Love it!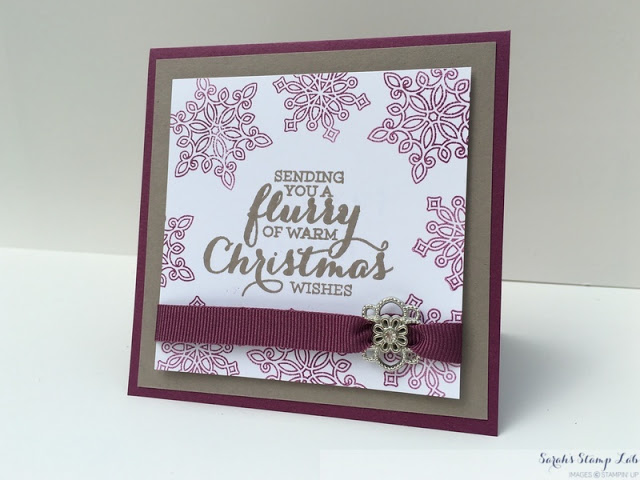 Yeah, I made another matching envie with my envelope punch board.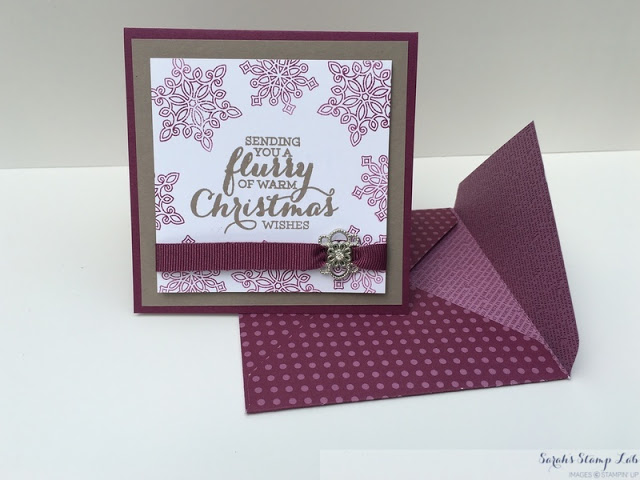 Check out these beauties together!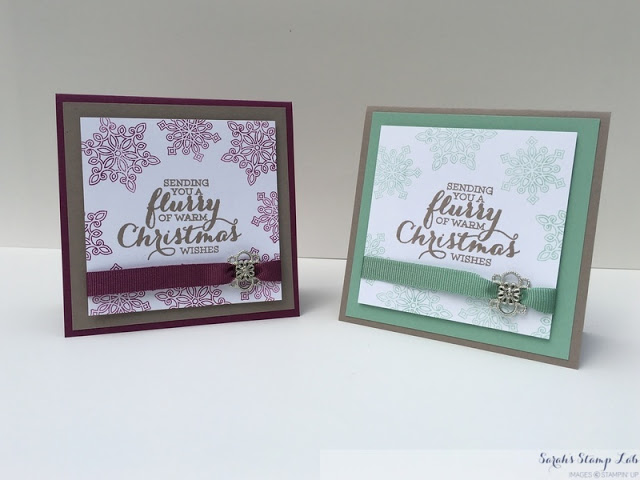 You could make several of these in different colors and bundle them up as a set! What a nice gift to give someone to prepare for the holidays.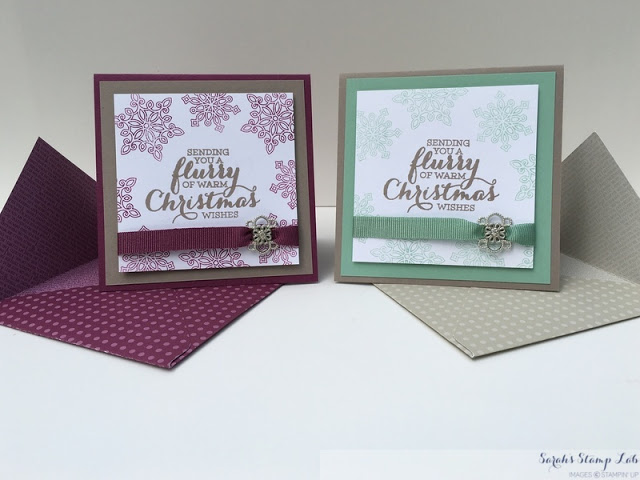 Cardstock Measurements:
Card base: 4" x 8"
First mat: 3-3/4" x 3-3/4"
Whisper White stamped panel: 3-1/4" x 3-1/4"
Ribbon: 5"
Product List
Hostess Code for September 1-30, 2016 - ZZ6QKCTV
If you place an order with me during the month of September, use the code ZZ6QKCTV, and I will send you a free gift! If you place an order over $150, do not use the code - you qualify for Stampin' Rewards and you will still get the free gift from me! The hostess code will close out on Sept. 30th, 2016. Free gifts will be sent out during the first 2 weeks of October 2016.
For the FIRST time ever, FIRST-time subscribers can buy their FIRST month and get their second month FREE!
Offer Dates: August 11–October 10, 2016
Offer Details: Use the promo code "BOGO" at PaperPumpkin.com, and you'll pay the regular price of $19.95 USD/$26.95 CAD and get your second month for FREE! If you subscribe with the promo code between now and September 10, you will pay full price for the September kit and get the October kit free. If you subscribe between September 11 and October 10, your first kit will be the October kit and you will get the November kit free.
·
IMPORTANT: Offer invalid if subscription is suspended or cancelled during the first two months. In other words, subscribers cannot cancel or suspend their subscription during their first two months—if they do, the offer is void..
·
After the first two months, the subscription will continue for $19.95 USD/$26.95 CAD + tax per month (shipping included) unless cancelled or suspended. Ends October 10, 2016.
·
This offer is open to first-time subscribers only.
·
Not valid on prepaid subscriptions.
·
Ends October 10, 2016 (the last day to subscribe and get the October kit).