Well, I really should have written this blog post a month ago but it's better late then never, right?
I'm going to tell you all about my time at the On Stage Local event I attended at the beginning of November. One of the best things about being a demonstrator is that you get to attend events held by Stampin' Up! They hold On Stage events twice a year. This year one of the local events was in New Jersey! I was so happy to see that! I have driven many hours to attend events in the past so it was nice to go to a local place.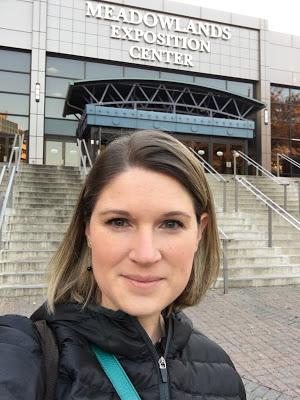 Arriving at the Meadowlands Expo Center!
For this event, it was all about the new 2017 Occasions and 2017 Sale-a-Bration catalogs! I love being one of the first people to see new items. I always get excited and the creative juices start to flow.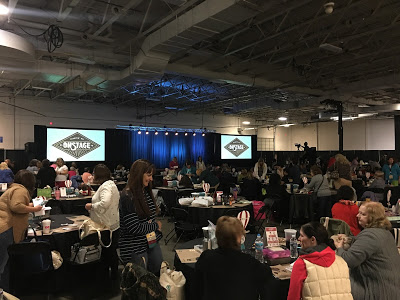 The view from my seat.
As the room began to fill with demonstrators, the swapping really got into full swing! For those of you who do not know, at these events demonstrators who choose to, will created either card fronts or full size cards and then swap with other demonstrators. I always save at least one of each of my creations to show off to my customers and on my blog. It's a fantastic way for the demos to share their talents, and we all learn from each other. Then we can pass along the inspiration to you, our wonderful customers!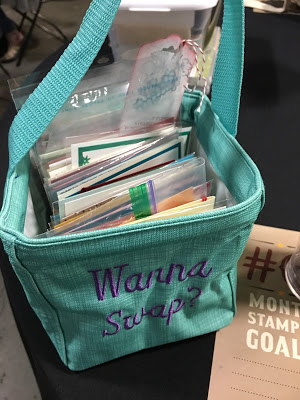 All swapped out!
This year I made 45 swaps, and I was able to swap them all! I was so happy! In years past, I had made too many and brought home multiples of my own items. This year my number of swaps was just right. Look at that full swap tote!!! I"ll be photographing them and showing them off on my blog soon.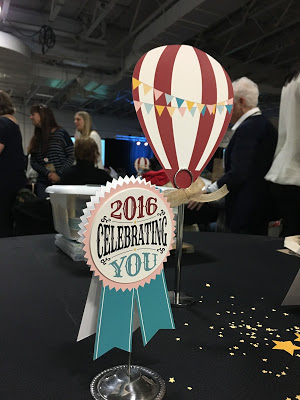 This year's theme: Celebrating You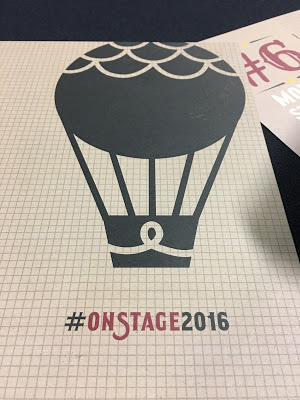 Lots of Hot Air Balloons in the decor...I wonder why...
While at On Stage Local, we were able to see stamping demonstrations and presentations from the On Stage Live event that was happening in Australia. How fun would it be to attend one in Oz??? They streamed in some demonstrations for us to watch, and my favorites are always the ones done by Shelli Gardner, the co-founder of Stampin' Up!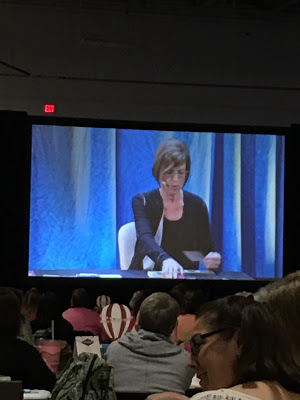 Getting to watch Shelli stamp!
I know you have been waiting for this...you want to know about my loot! LOL! Stampin' Up! really treats their demonstrators well. I went home with over $100 in current and sneak peek product. It was fabulous! I also was able to complete 4 make and takes using brand new product from the Occasions catalog. I will be showing you those in a future blog post. But back to my freebies....for the first time EVER, I won prize patrol! I was so excited!!!!!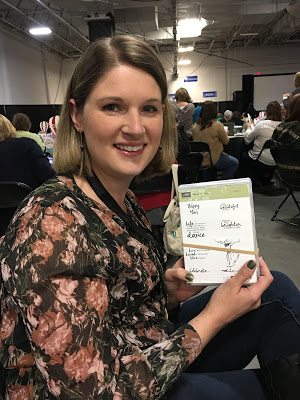 Showing off my new stamp set!
It was such a wonderful day and I cannot wait for the next one in April.
If you are wondering how you can become a demonstrator and get to go to these events, it's really simple. At the top of this page is a tab to "Join My Team". Just click on that it takes to you more information on how to become a demonstrator. I welcome hobby demos on my team!!! If you are going to be placing a $125 order anyway, you can sign up as a demo and receive $125 in product for $99 with no commitment.
If you are not interested in becoming a demonstrator but want to keep in touch and get free monthly card making tutorials, sign up for my newsletter instead!
Hostess Code for December 1-31, 2016 - Q2N74DT4


If you place an order with me during the month of December, use the code Q2N74DT4, and I will send you a free gift! If you place an order over $150 (before tax and shipping), do not use the code - you qualify for Stampin' Rewards and you will still get the free gift from me! The hostess code will close out on Dec. 31st, 2016. Free gifts will be sent out during the first 2 weeks of January 2017.