Good morning! This is my annual Christmas Cookie Baking Weekend, or as my husband calls it "Cookie Palooza!". I wanted to post another cute Christmas card before I lock myself in the kitchen to make 7 batches of cookies today. I'll be pooped by the end of it, but I know how much people look forward to getting a box of my cookies every year, so I don't mind all the baking one bit! Maybe if I have time, I'll even try out the cookie stamps. :-)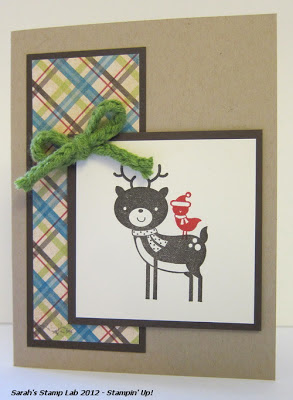 We made this card at a recent Stampin' Up! party. It's a super simple design and comes together quickly, but I love the end result! The little bow of Gumball Green Sweater Trim just makes it toooo cute!
Stampin' Supplies:
Paper: Crumb Cake, Early Espresso, Very Vanilla
DSP: Orchard Harvest (Who says you can't use Autumn themed paper for Christmas!)
Stamps: No Peeking
Ink: Early Espresso, Real Red
Other: Gumball Green Sweater Trim
See you all again when I resurface from the baking!