Hi Stampers!
Today I have a card that I made a while back but I still wanted to share it with you! It's a fun (and easy) card that I made with the Birthday Cake a la carte stamp (retired). I adore this color combo. I think it would also look fabulous in a combo of Hello Honey and Blackberry Bliss in case you want to CASE this card but switch it up a bit! I am in love with the chevrons on this stamp and how they coordinate with the chevron paper that is in the Brights paper stack! Gah, it makes me giddy when everything matches so nicely! Love that about Stampin' Up!
See those rhinestones on the cake? To keep them straight, I used the rhinestone strip that comes in the Basic Jewels Rhineston pack and just cut it down to the size that I needed. Who has the time to perfectly line up all of those rhinestones? No one! I love that the work was already done for me.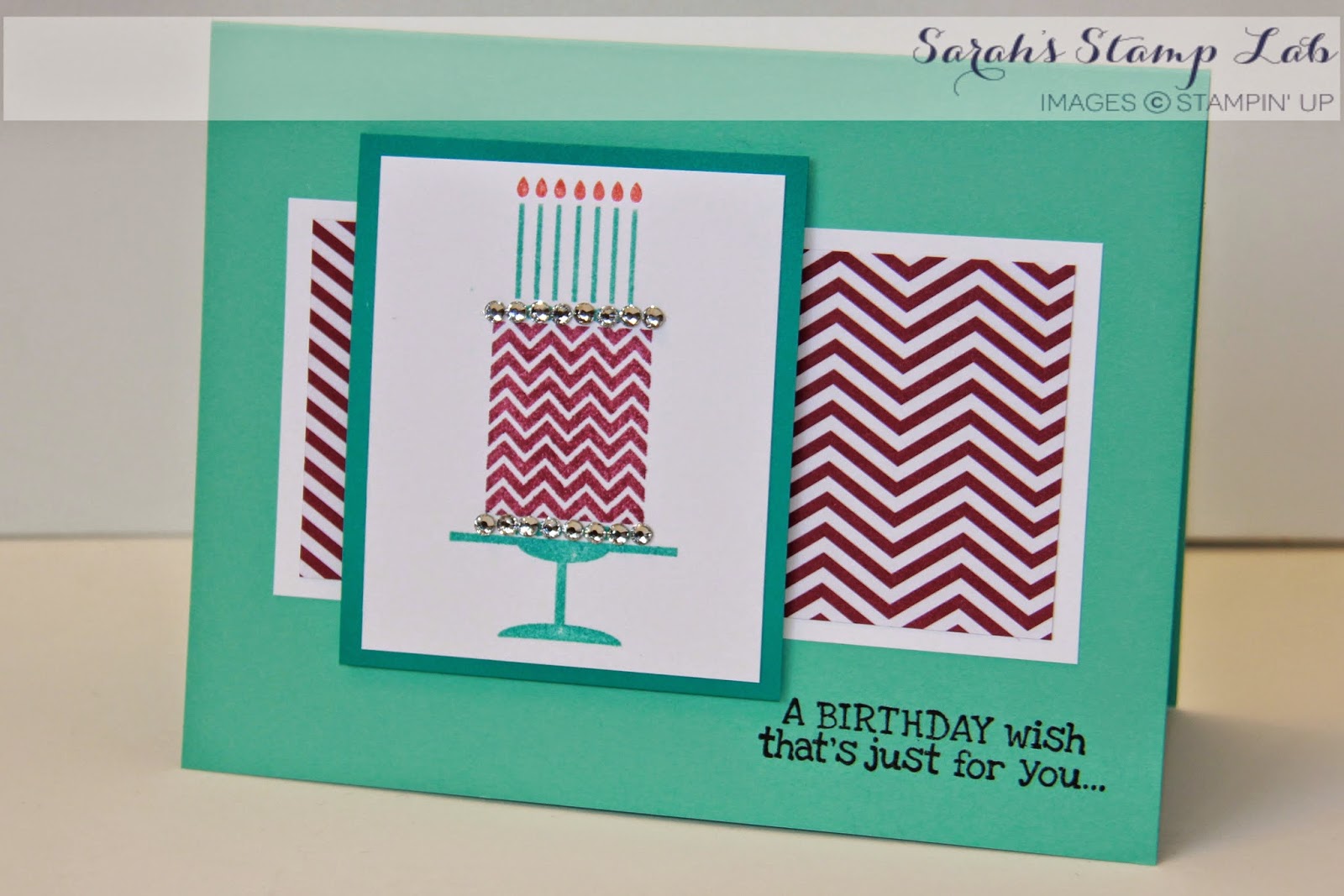 Every stamper has made tons of birthday cards. Do you have one that you made and really love? Let me know in the comments!
Table by StampinBuddy. Try it FREE.
August's Class on the Go - Work of Art
The Work of Art stamp set (see page 165 of the 2014-2015 Annual Catalog) combines many different graphic elements to create your own works of art. With this kit you will see just how versatile this set can be! In this Class on the Go kit, you will be creating 4 cards (pictured below). I will show you how to create cards featuring the basic images in the set, as well as showing you some "outside of the box" ideas. I love finding new, and unique, ways to use my stamp sets!
Inks used:Lost Lagoon, So Saffron, Calypso Coral, Pool Party, Early Espresso, Pear Pizzazz, Blushing Bride, Hello Honey, Blackberry Bliss, Mossy Meadow, Jet Black Staz On
Work of Art Stamp Set (please specify clear or wood mount)
All supplies needed to create the four cards shown plus envelopes
A PDF Instruction Sheet emailed to you with detailed step by step instructions, measurements, and even access to my first ever stamping video!


Ordering Options:
Class on the Go Kit with Wood Mount Stamps: $45
Class on the Go Kit with Clear Mount Stamps: $35
Class add on: Dazzling Diamonds and 2-Way Glue Pen $9.45
Shipping: $5.60 for Priority Mail
Pre-paid Registration is Due by 5:00PM Friday August 22nd
Contact me by email to register with your name, address, phone number and what class options you would like. I will respond with a total. Local customers may pay by cash or check. If you are not local, I will send you a Paypal Invoice which you can use to pay with your credit or debit card.


Kits will be ready for pick up/ shipped by Friday, September 5th.
Please feel free to contact me with any questions!!!