Hi Stampers!
Today I have another card from my Lacy & Lovely class. This card was inspired by one from Create with Connie and Mary. It looks like a really simple card, but with some of the techniques used my customers were really wow'd!
For this card, we focused on collage stamping. Collage stamping is super easy and super fun. The best part is that you do not need a ton of layers or embellishments to make a beautiful card that you would be proud to give a loved one. The Lacy & Lovely stamp set is a really great choice for collage stamping. Just choose some of your favorite colors and get to it!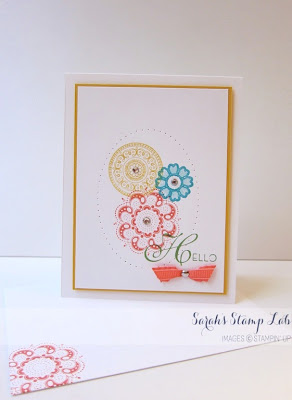 For a little added dimension, we used some of the paper piercing templates to add an oval shape around the stamping. To make that adorable little bow, all we did was stick the ribbon in between the tines on of the brad and then attach the brad as you normally would. I know, I know.....I used some retired ribbon here but the 3/8" Taffeta Ribbon would work well with this technique - plus it comes in some new colors like Pear Pizzazz!
Stampin' Supplies:
Card Stock: Whisper White, Crushed Curry
Ink: Crushed Curry, Calypso Coral, Bermuda Bay, Gumball Green
Stamps: Lacy & Lovely
Embellishments: Basic Rhinestones, 1/8" Mini Brad, retired Calypso Coral ribbon
Tools: Paper Piercing Tool, Paper Piercing Mat, Occasions Paper Piercing Templates