Hi Stampers!
Happy Sunday! We have been so busy this weekend that I haven't been able to stamp as much as I wanted to, but it's worth it because we are re-doing my bathroom. Yay! Maybe I'll post some before and after pics here when we are done. :-)
Today I'm posting another card from my Chock Full of Cheer class! This was a fun and easy card to make. I did show some restraint on the amount of dimensionals I used. A challenge for me!!! With less dimension, the card is easier to mail!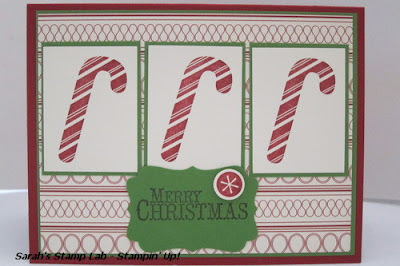 The little dot on the front is from the strip of polka dots that is in the Chock Full of Cheer set. The 1/2" circle punch works perfectly to punch out individual dots!
Here's the card interior: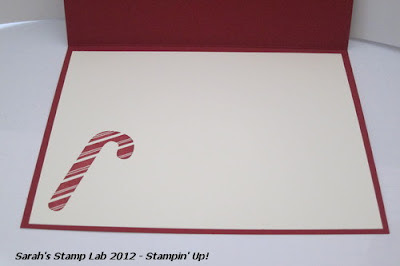 Stampin' Supplies:
·
5 ½" x 8 1/2" Cherry Cobbler Cardstock
·
2 1/8" x 1 5/8" (3), 5 ¼" x 4" and 2 ½" x 2" Gumball Green Cardstock
·
1 ½" x 2" (3), 5 ¼" x 4", and a scrap Very Vanilla Cardstock
·
5 1/8" x 3 7/8" Be of Good Cheer Designer Series Paper
·
Cherry Cobbler and Early Espresso Ink pads
·
Decorative Label punch and ½" Circle punch
·
Candy cane, sentiment, and strip of dots stamps from Chock-Full of Cheer
·
Adhesive, Dimensionals, and Scissors
Very Vanilla A2 envelope
New Classes!!!
Check out the Class Schedule tab at the top for the most up to date list of my classes. Interested in attending one? Just send me an email and I can give you even more info!
October Promotion!!!
Stampin' Up! is offering great pricing on their Ornament Keepsakes bundles. Free Designer Series Paper!!!! Check on my Promotions tab!
That's all for today! Make sure you watch the first game of the Division series tonight and root for my beloved Yanks!!!!