Hi Spooky Stampers!
Today I'm back with another Halloween project! This is a little treat basket made using the Petite Purse die. It's not just for girl favors!!!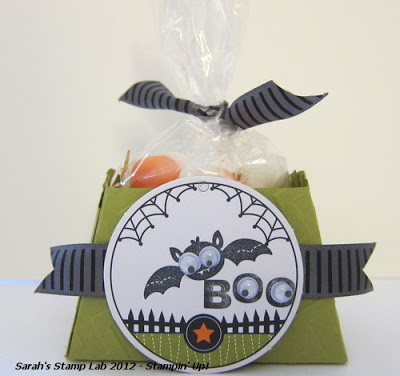 I put a little paper filler in the bottom to have the basket hold its shape and then filled a baggie with candy corn flavored jujus. YUM!!!
Stampin' Supplies:
5 ½" x 8 ½" Lucky Limeade Cardstock
·
½" Striped Satin Ribbon (2 pieces)
·
Googly Ghouls Stamp Set
·
Chevron Embossing Folder
·
Adhesive, Sticky Strip, and Scissors
EXCITING NEWS!!!!
The new Stampin' Trimmer will be available for customers to order in November! You can check it out on page 180 of the 2012-2013 Annual Catalog! I will be pre-ordering one and will have it at my classes for all customers to try out!
CLASS UPDATE
My Christmas Stamp a Stack is officially full! Did you want to take this class but didn't sign up in time? If you are still interested, email me. If I have 2-5 people interested in a different date, I will set up a second date.
October Promotions are going on for two more weeks! Click on the Promotions tab for more information on the Ornament Keepsakes bundle!