Hi Stampers!
I spent Friday night and all day Saturday down in Baltimore, MD for the Stampin' Up! East Coast Spring Regional. These events are always a ton of fun. And the swapping! Oh, the swapping! So much fun. I didn't have a whole lot of free time to create tons of swaps. I only made 24, but that was enough for me. I received such beautiful work in return. I also had one lady tell me that she was hoping she could find me to swap with because she liked my design. I was so happy about that because my design aesthetic tends to be on the clean and simple side and I always think that others like very heavily embellished cards. Anyway, it made me so happy! I also got to meet Shannon West, who I love, and Brian Pilling. I was very starstruck. My fellow demos would understand!
I also got a peek at a bunch of new products from the upcoming catalog and I got to see all of the new In Colors for 2013-2015. You are not going to be disappointed! The new catalog goes live on June 1st!
I stayed right in the Inner Harbor and here is the view from the top floor of my hotel.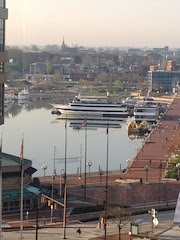 Here is the swap I made for the event: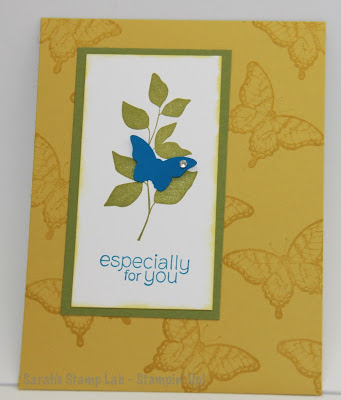 Because it is Stampin' Up!'s 25th birthday, we had an afternoon cupcake break!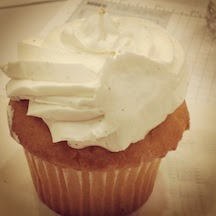 Yum! I chose vanilla cake with vanilla frosting. Obviously, I had no self control and began eating the icing on my way back to my seat.
Here is my swap on the swap display board. So exciting!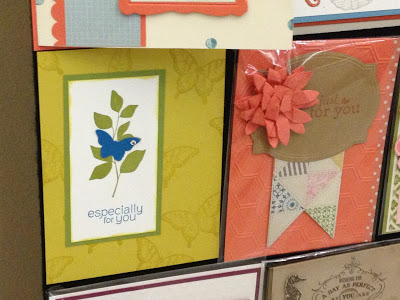 Stampin' Supplies:
Card Stock: Summer Starfruit, Old Olive, Pacific Point, Whisper White
Stamps: Papillion Potpourri, Summer Silhouettes, Made for You
Ink: Summer Starfruit, Old Olive, Pacific Point
Other: Bitty Butterfly Punch, Sponge Dauber, Basic Rhinestones