Hi Stampers!
Have you noticed anything different about the old blogo today? I had Chelsea from Bella Lulu Ink Blogs give my blog a complete make over! Do you love it? I do! I especially love my little test tube. How cute! Do you have a blog in need of a make over, or just a little change? Check out her Etsy shop here: Bella Lulu Ink.
I still have all of the same pages across the top of my blog. There are some new features of the blog now. Right below my profile image you can see there are a lot of buttons for easy access to my email, Facebook page, Pintrest, etc. You can also always see the newest photos I take with my Instagram feed as well as what I'm currently pinning on my Pintrest feed.
Have you ever wanted to save any of my creations to your own Pintrest boards? Now it's easier than ever! Just hover over any picture and a little "Pin Me" icon will show up. Quick and easy pinning - LOVE IT!
I want to send our a huge thank you to Chelsea for all of the work she did on my blog! Words cannot describe how wonderful she was to work with and how much I love my blog now! Chelsea, you rock!
Now on to some stampin' news....
Did you know that this week was the Stampin' Up! convention? Sadly, I was not able to attend....hopefully next year. During convention, a new My Paper Pumpkin promotion was announced. If you sign up for a My Paper Pumpkin subscription under me before August 31st, 2013 you can get the first two months for only $10 per month! (After the first two months, the price will go back up to $19.95 per month.)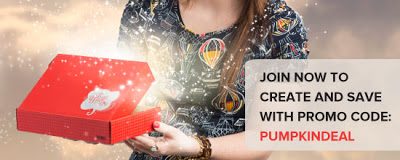 Be sure to click on "Add Promo Code" and enter PUMPKINDEAL to get your discounted pricing.
My Paper Pumpkin is a monthly paper crafting kit club. This is the perfect option for people who want a fast, creative break from their busy lives. Don't have time to attend my stamping classes? This is the perfect alternative. Every month you get a new project to work on. As a My Paper Pumpkin subscriber, you will get exclusive stamps every month that are not offered to SU customers who are not MPP members. You may want to flaunt that you have those stamp, I'm just saying'...
As a new member of My Paper Pumpkin, your first kit will be the Welcome Kit.
Contact me with any questions you may have about My Paper Pumpkin or other Stampin' Up! products!