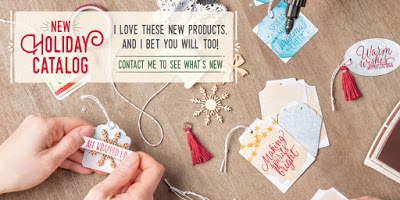 Here are few more videos showing some sneak peeks of items that you will be able to order in September from the 2016 Holiday Catalog.
Contact me with any questions or if you would like a copy of the catalog!
Want to see more videos? Click the links below:


Hostess Code for August 1-31, 2016 - T3NM9T47
If you place an order with me during the month of August, use the code T3NM9T47, and I will send you a free gift! If you place an order over $150, do not use the code - you qualify for Stampin' Rewards and you will still get the free gift from me! The hostess code will close out on August 31st, 2016. Free gifts will be sent out during the first 2 weeks of September, 2016.