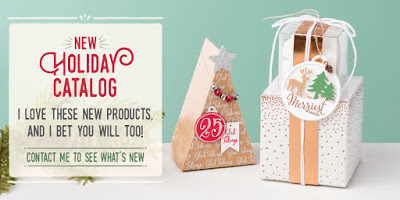 Yes! I have three more videos to share with you today featuring more BRAND NEW PRODUCT!!! Are you excited for the holiday crafting season yet?
Have you watched all of the videos? Which one has been your favorite? What do you like to create during the holidays? Let me know in the comments!
Want to see more videos? Click the links below:
Hostess Code for August 1-31, 2016 - T3NM9T47
If you place an order with me during the month of August, use the code T3NM9T47, and I will send you a free gift! If you place an order over $150, do not use the code - you qualify for Stampin' Rewards and you will still get the free gift from me! The hostess code will close out on August 31st, 2016. Free gifts will be sent out during the first 2 weeks of September, 2016.