Hi Stampers! Welcome to day 3 of my Button Buddies class samples. It was a busy weekend so I didn't get as much accomplished in the way of setting up blog posts. Hopefully, I will have some time this week because I want to post some sneak peeks at the upcoming Chock-Full of Cheer class! If you are in the Central NJ area and are interested in taking this class, email me at sarah@demmeni.org.
And now on to the card!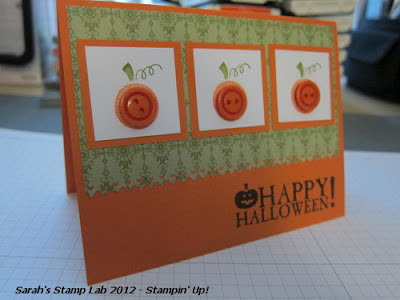 I went for a very simple layout on this one because we are using three pretty big buttons on it. I'm not sure it this one can be mailed with a regular postage stamp. You may have to put a $0.65 stamp on it. Or just visit the person and hand it directly to them!
Stampin' Supplies:
·
5 ½" x 8 1/2" and 1 5/8" x 1 5/8" (3) Pumpkin Pie Cardstock
·
1 3/8" x 1 3/8" (3) Whisper White Cardstock
·
3" x 5 ¼" Old Olive Designer Series Paper
·
Pumpkin Pie and Old Olive Stampin' Write Markers
·
3 Pumpkin Pie Designer Buttons
·
Pumpkin stamp from Button Buddies
·
Happy Halloween stamp from Seasonal Sayings
·
Pinking Hearts Edge Border Punch (retired! Substitute in the Finishing Touches Edgelit)
·
Early Espresso Embossing Powder
·
Whisper White A2 envelope
Here are the other days of the Button Buddies class, in case you missed them!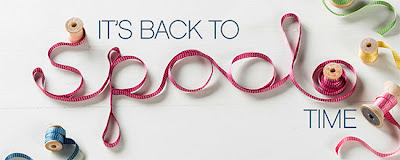 Don't forget about the Back to Spool promotion! Click here for more details!