Happy St. Patty's Day! Today I do not have any stamping projects to share but I do have a little something that I have been working on to share with you. My first try at decorating sugar cookies with Royal Icing!
I have been wanting to try this for a long time and I finally got the courage to go ahead with it! Be gentle, this is only my first time so they are not perfect!
I decided to go with a shamrock because it is a simple shape and I only needed to use one color of icing to decorate the cookies. I used both the sugar cookie and royal icing recipes from The Sweet Adventures of Sugar Belle blog. Check out her blog because it's awesome!
First I made thicker consistency royal icing and I piped the outline of the shamrock. I really need to practice this, but all in all, not too bad for my first time. Then I thinned out the icing to a "flood" consistency and filled in the outline on the cookies.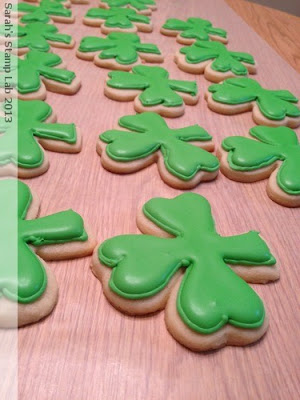 Of course I had to package up each cookie in a special way! I found the printables on the Amanda's Parties to Go blog. I just printed them out on Whisper White card stock and then punched the designs out with my 1-3/4" circle punch. Then I used my 2-3/8" scallop circle punch to make the Daffodil Delight and Gumball Green Layers. Each cookie was put in a cello bag and I tied the tag on.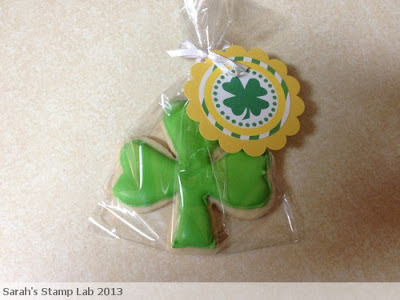 Here's a picture of the whole batch!
I hope you enjoyed my little non-stamping post. Don't worry...I'll be back tomorrow with another fun stamping project!