Hi Stampers!
Today you get a double dose of posts from me! Why? Because I have two exciting new things to share with you!
First up, it's the beginning of the month and that mean......drum roll please......
A new Best of 25 Stamp Set!!!!!
Best of FLOWERS!!!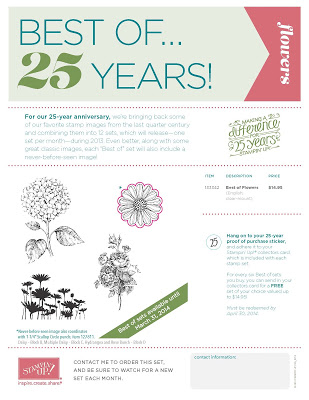 I love love love that silhouette stamp in the lower left corner. I never purchased it when it was available and have always regretted it. Well now....no regrets! YAY!!!!
I have updated the Promotions tab to include the new stamp set.
If this wasn't exciting enough, Stampin' Up! has announced today something that has made me over the moon happy!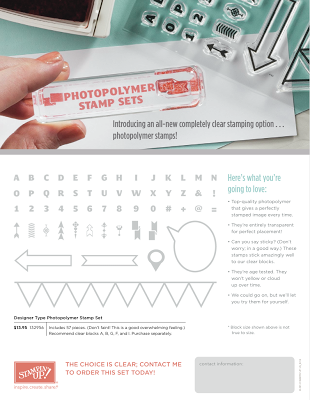 I have been waiting for SU to release a product like this. It's a fantastic concept that will allow you to really see where you are stamping everything. Plus, no need to buy new blocks! These stamps work perfectly with the acrylic blocks you already own. How fantastic is this????
What makes them so great?
They're entirely transparent for perfect placement every time!

They are durable. The photopolymer material is designed to last.

Can you say sticky? (Don't worry; in a good way.) These stamps stick amazingly well to our clear blocks.

They're age tested. They won't yellow or cloud up over time.

They use FDA, food-safe material. How far can you stretch your stamping creativity?

We could go on, but we'll let you try them for yourself.
They are clearly a great choice.
Item

Description

Price

132956

Designer Typeset Photopolymer Stamp Set




Recommend clear blocks A, B, G, F, and I. Purchase separately.




Includes 57 pieces. (Don't faint! This is a good overwhelming feeling.)

$13.95
The Fine Print
Photopolymer stamps will be offered on a trial basis. Based on popularity, we hope to release more photopolymer stamp sets over the coming months. At this time we don't plan on offering a line of photopolymer sets as expansive as our wood-mount and clear-mount lines.

Available on all order types beginning March 1, 2013.

Not available in wood-mount or clear-mount.

All photopolymer will be packaged in cello bag w/insert, but don't forget you can store them in our clear cases. (Item# 119105)
Orders can be placed through my
online store
, or directly through me by
email
. Contact me if you have any questions!