I'm desperately trying to get myself back on a good blogging schedule, but ever since Italy I just feel like I have no time to catch up. Ever feel that way? Guess there's nothing I can do but keep on plugging along! Luckily, I have a card today! I made this one before my trip for a good friend's birthday. I had to mail it out before I left but I snapped a few quick pics before I put on the postage stamp.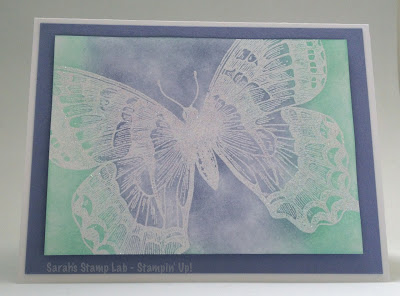 For this card I used the emboss resist technique. I first stamped the butterfly in Versamark, added Iridescent Ice embossing powder, and then heat set the image. Using sponge daubers, I added color in a circular motion to give this watercolor effect.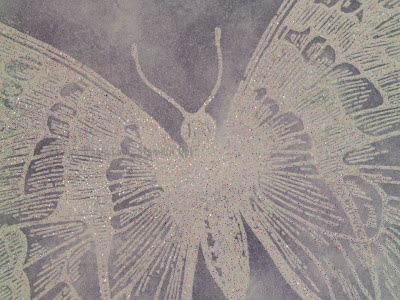 Here's a close up look at the embossing powder. See how pretty it is? It's a white powder mixed with glitter. It gives you a very subtle sparkly effect. Love it! Warning - doing an emboss resist over this type of embossing powder may wreck your sponge dauber!!! The glitter in the embossed image tore the sponge a little bit. It's OK though, because sponge daubers are a must have tool and I always have plenty of extras on hand.
Here's the interior. I thought the card needed just a couple more butterflies. You can never have too many!
Cardstock: Whisper White, Wisteria Wonder
Designer Series Paper: 2011-2013 In Color Stack
Stamps: Swallowtail, Perfectly Penned
Ink: Versamark, Wisteria Wonder, Pool Party
Punches: Elegant Butterfly, Bitty Butterfly
Embossing: Iridescent Ice Embossing Powder, Embossing Buddy, Powder Pal, Heat Tool