Hi Stampers!
Well I am certainly waaaaay behind on my My Paper Pumpkin kit posts! Today I'm sharing with you the cards I made with the June Kit. This kit was all about hexagons. Isn't it adorable? I love the little windows cut in the card stock. The best part is that everything is already cut and ready for you to put together. My Paper Pumpkin is an easy way to get a little crafting into your busy schedule.
This card is the one featured in the kit instructions.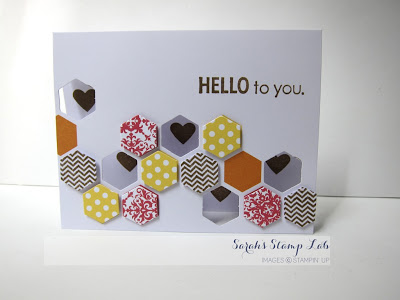 For the next card, I changed the sentiment. Recognize it? That's the one that came with your Paper Pumpkin Welcome Kit! Also, I put some of the hexagon sticker on the inside of the card so that they can be seen through the cut outs. Just another fun idea to change up the project.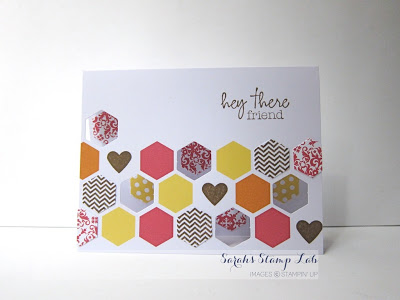 For this card, I simply changed the orientation from landscape to portrait. To change up the sentiment, all you have to do is just apply ink to the "HELLO" part of the stamp. This is easy to do with the Stampin' Spot included in the kit. Keep a baby wipe on hand to wipe off any excess ink that might occur from over-zealous inking of your stamp. Hey, it happens.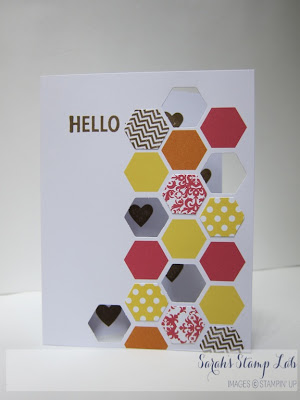 And finally, this card is my hexagon explosion! I feel like I just kept adding and adding and adding hexagons to this one. I love how it turned out. In fact, you could cover the entire cardfront in hexagons and make it look like a quilt!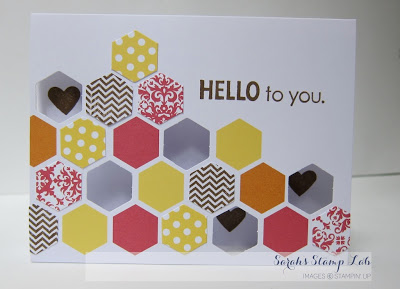 I hope you have enjoyed seeing the cards I made with the June 2013 My Paper Pumpkin kit. If you would like to start getting Paper Pumpkins delivered right to your door step, click on
THIS
link to readd more about it and sign up!