Hi Stampers!
I'm back with my second swap from Regionals. On this card I really wanted to keep it simple! I like cards that don't take a lot of time to make. This is a great card to make if you are a beginning stamper as well. Plus it features a great technique - Two Step Stampin'!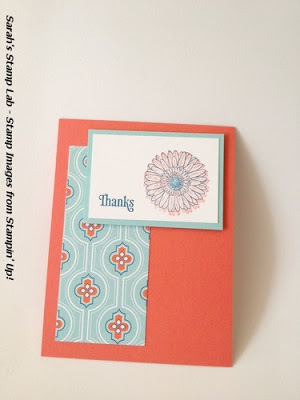 Look at how simple this card is! It's simple, yet so much fun! Wouldn't you love to receive a card like this in the mail?? Don't you just love that designer series paper? I can't get enough of the International Bazaar Designer Series Paper. I had to order a second pack of it so I wouldn't run out of any of the patterns.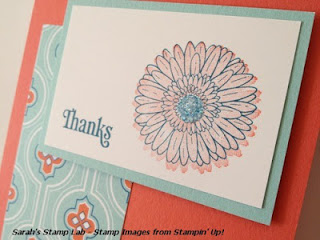 Here's a close up of the Two Step Stampin' technique. I also added some Dazzling Details to the center to give a little extra sparkle!
Stampin' Tip!
When you are doing Two Step Stampin', do not get hung up on trying to align the two stamps perfectly. They are not meant to match up. It's purposely supposed to look a little like coloring outside of the lines. I know it's hard to let go of being a perfectionist, but when you are Two Step Stampin' you just have to go with the flow! You will have a lot more fun stamping with this technique if you do! :-)
Stampin' Supplies:
Cardstock: Calypso Coral, Pool Party, Whisper White
DSP: International Bazaar
Stamps: Kindness Matters, Reason to Smile
Ink: Island Indigo, Calypso Coral
Other: Dazzling Details