Hi Stampers!
I'm back! I'm going to try to be a good blogger. I hope I can. It's been a very busy couple months and with the non-stop snow and craziness at work I just haven't had the time or motivation to post. This weather just puts me in such a grumpy mood all of the time. I'm counting down the days until spring!
Today I have an anniversary card to share with you. This card was cased from one that I saw in an issue of Stampin' Success magazine. That's the SU demonstrator exclusive magazine which is chock full of ideas and inspiration for paper crafting. I love it!
I sent this one to my cousins for their wedding anniversary. I know she LOVES Pool Party, so I had to include that color on the card!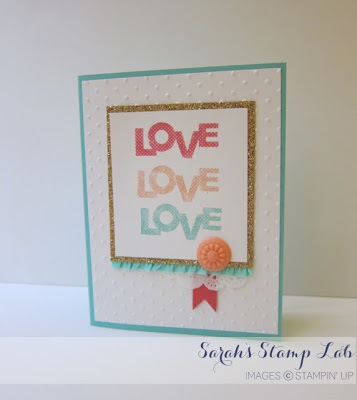 \
I was a little worried about putting the In Color Boutique Details embellishment though the mail, but my cousin reported that the card arrived in good condition! Yay Postal Service!!!
All of the items used to create this card can be purchased from my online shop:
SHOP HERE
Stampin' Supplies:
Card Stock: Pool Party, Whisper White, Strawberry Slush, Champagne Glitter Paper
Stamps: Seasonal Sayings
Ink: Pool Party, Crisp Cantaloupe, Strawberry Slush Stampin' Write Markers
Embellishments: Tea Lace Doily, 2013-2015 In Color Boutique Details, Coastal Cabana 3/8" Ruffle Stretch Trim
Perfect Polka Dots Embossing Folder
Big Shot